Getting to Koh Chang from Bangkok is relatively straightforward and there are several options. But bear in mind that a late afternoon or evening arrival at Suvarnabhumi will mean an overnight stay as the final ferry for Koh Chang leaves the pier at 7pm. Many travellers find it convenient to spend two or three days seeing the sights of Bangkok before continuing their journey.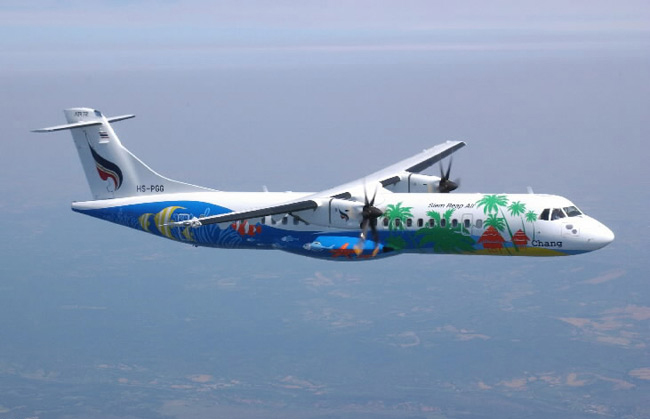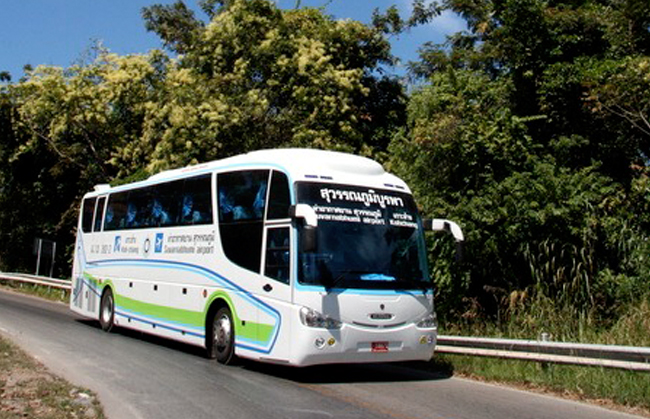 If you are travelling to Koh Chang from Bangkok's Suvarnabhumi Airport the quickest, although most expensive, onward journey to your destination is by air with Bangkok Airways. 'Asia's Boutique Airline' has three flights a day to our nearest airport at Trat, just 17 kilometres from the Koh Chang ferry. Flight time is 40 minutes and travellers have free use of the Bangkok Airways lounge, with free coffee and tea and snacks, while awaiting departure.
Flight times: Bangkok – Trat
| | | |
| --- | --- | --- |
| | DEPART | ARRIVE |
| PG 301 | 08.45 | 09.45 |
| PG 305 | 11.45 | 12.45 |
| PG 307 | 17.10 | 18.10 |
On arrival at Trat collect your luggage and go to the taxi desk where you will be allocated a minibus for the final stage of your journey. The last ferry will be held for airport taxis bus.
If you are travelling from Bangkok there is no shortage of tour operators offering minibuses to the island. However, our preferred method of travel from the city itself is the 99 Express air conditioned bus from the city's eastern bus terminal at Ekamai. This is the most convenient service as it takes you directly to the ferry for a fare of just 275 Baht.
Journey time is around six hours with a 20 minute comfort stop en route. If you notify of us of your arrival time we will meet you when the ferry docks on the island.
Timetable: Ekamai to the ferries
| | | |
| --- | --- | --- |
| | DEPART | |
|  Ekamai 1 | 07.45 | |
|  Ekamai 2 | 08.45 | |
|  Ekamai 3 | 09.45 | |
If travelling from the airport we recommend the VIP bus service although there is only one service a day. This departs the airport at 07.50 and arrives in Koh Chang around six hours later.
It is a safe, comfortable journey on a modern air conditioned bus and passengers receive a drink and snack en route. The fare is 600 Baht and to obtain a ticket you go to the ground floor of the airport (NOT the bus terminal) and at Door Number 8 you will find the booking desk. When the bus is ready to leave you will be called and taken to the departure point.
From the city take Highway 3, the Bang Na-Trat highway until the Chonburi bypass when you pick up Highway 344 until Klaeng crossroads. Then it's back onto Highway 3 all the way to Trat. You can avoid Trat itself and go directly to the ferry terminal by taking the clearly signposted road to Laem Ngop about 20 kilometres outside Trat.
If you prefer to be driven in comfort we can organise a reliable and efficient taxi to and from Bangkok for 4,500 Baht including tolls and ferry crossing. Our driver makes the trip many times during the season and has won high praise from passengers for the comfort of his vehicle and the safety of his driving.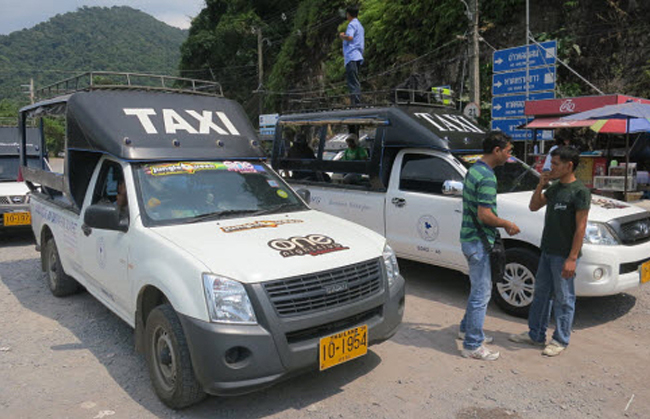 Songthaews, the white share taxis with a bench at either side in the rear, are a familiar site at the ferry piers and along the west coast, although less common on the east of the island. 
To help guests make the most of their stay with us and enable them to visit other parts of Koh Chang we will be running a daily pick up and collection service to and from White Sands Beach.
This will leave Serenity at 11am and pick up from White Sands at 5pm.
Once in White Sands it is a simple business to get transport to the other resorts along the west coast. Simply hail one of the many songthaews that will be cruising the main street and either tell the driver your destination or ring the bell when you want to get out. These taxis should have a scale of fares displayed on the vehicle and you will find these extremely inexpensive in comparison to western taxis costs.
However, if you are planning a late night on the west coast do not rely on a taxi to be passing when you are ready to go home. They are few and far between the later the evening draws on, so you will need to attempt to pre-book or take advantage of the restaurant or bar you have been using to organise one for you. Be sure to agree the fare with the driver and expect to pay 500 baht and upwards for an East Coast drop off depending on the hour.
Your alternative is to hire a car which we will be happy to arrange one for you. The cost will be around 1200 baht per day. If you do, remember to drive on the left and always expect the unexpected from other road users as there seems to be no such thing as a Thai Highway Code. Be particularly cautious when overtaking one of the hundreds of motor scooters you will come across as often these will be carrying several people and abnormal loads.
We will provide transport to most of the activities mentioned in the Things to Do section, but always remember – if in doubt about any aspect of getting around on Koh Chang come to us with any queries you may have and we will do our best to smooth the way ahead.
Unless you are thoroughly competent, confident and experienced on two wheels we strongly advise guests against hiring motor scooters on the island.
Accidents involving foreign tourists are an almost daily occurrence and we have seen too many holidays ruined this way to consider scooter rentals. those involved in scooter mishaps also face the prospect of having to pay the owner many hundreds of pounds in damage compensation no matter how slight that may be.
Car rental from a reputable agency is a far safer way of getting around the island and we can organise this for you. alternatively we can provide transport – of the four-wheeled variety – to most parts of the island given notice.
If you do feel compelled to take to two wheels please ensure that you do the following:
Check for damage to the vehicle before you drive away and point it out to the owner
Check the roadworthiness of the vehicle particularly tyre tread and brakes
Check that the person renting the vehicle is covered by insurance in the event of an accident (this could be difficult)
Always wear a helmet as without one you will certainly be stopped and fined by police